EDC Ink –"Every Day Carry" Keychain Pen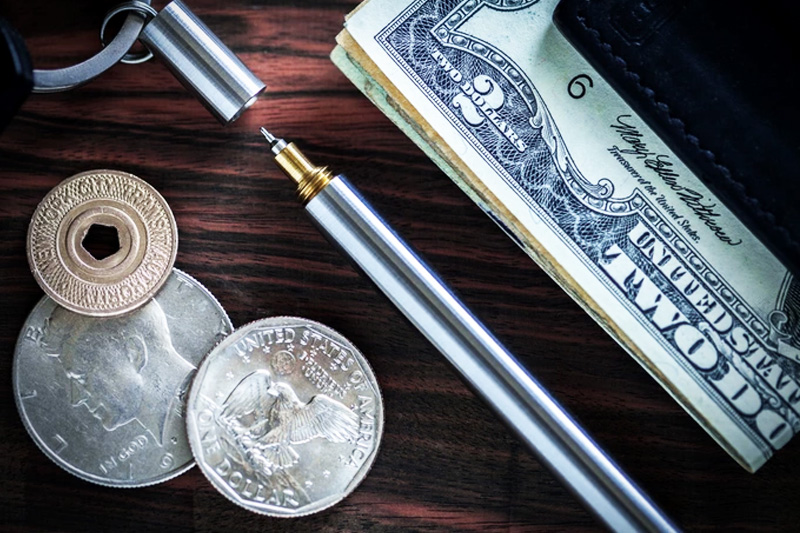 For the uninitiated, E.D.C. stands for Every Day Carry and is a popular topic of discussion regarding the need to always be prepared no matter the circumstances. EDC Ink™ is a line of high quality, rugged, and durable pens for your keychain or bag, designed so you will never be without one of the most used items in everyday life.
THE DESIGN
As a designer and someone that loves to travel I often find myself in need of a pen for quickly sketching an idea, making a list, or filling out the inevitable form.
These pens are made from the classic combination of 304 stainless steel and brass; the metals helped define the design and provided the inspiration for the pure, clean aesthetic. Every part is functional and simplified to the extreme. These pens utilize the raw metal's natural characteristics and native colors to produce the detail accents of the tip and end screw.
These precision machined parts fit together so perfectly that the parting line between the pen barrel and cap virtually disappear, resulting in an object that hides its identity until it's used.
Despite their small size, the precise fit and weight of the raw metals make them feel substantial, solid, and nice to handle.
While I love the purity of this design on its own, I often have to measure things for my work, so I added both metric and imperial measurement scales on the PRO version. I have found this added function to be incredibly useful and right there where you need it.